How to make a delicious kratom tea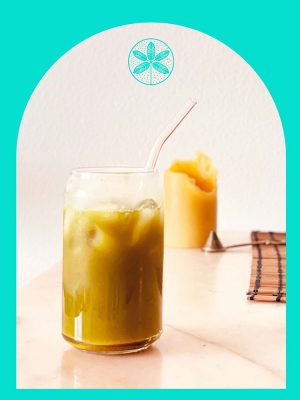 For many, the natural taste of kratom can be too bitter on its own and can be an intimidating flavor to work with. But it doesn't have to be that way! We've tried many recipes over the years, but this one is the one that stuck. Not only is it delicious but it's also very simple and accessible.
Many people try to overcome the flavor by consuming kratom in a capsule form, or through the 'Toss and Wash' method that essentially consists of putting a spoonful of dry powder in your mouth and washing it down as fast as possible with a beverage. However, we've found that people with sensitive stomachs sometimes find it difficult to digest capsules, and we find that the ritual of sitting down with a hot cup of tea is soothing and makes your relationship with the plant more intentional.
Not only is this method easier on the pallet, but it is also easier on your stomach and potentiates the kratom, making the alkaloids more readily available in the digestive process. 
A high-quality finely milled kratom is key when making a tasty kratom tea. Not only are coarse grinds unpleasant on the pallet, but they also make it harder for your body to access the alkaloids. Always choose a kratom that is milled as fine as matcha, and unless you are going for a white kratom (which, due to the drying process has a tan hue) or a  red kratom (which should have a warm chocolatey color) your kratom should be a vivid green. 
Kratom loses its color and potency with age and light exposure. It's important to store your kratom in a cool, dark place such as a kitchen cupboard, as well as to order kratom from a brand that has a close relationship with its suppliers to avoid getting a product that's been sitting around in a warehouse for months, even years. 

~ Makes 1 cup ~
• 1.5 grams of any Jaya kratom (if you have one of our dosage spoons, that's 2 level scoops)
• A tablespoon of lemon juice (fresh lemons are great, but if they're too messy for you, you might like to try any 'not from concentrate' bottled lemon juice)
• Honey or sweeter to taste (maple syrup and date syrup are great vegan substitutes)
• 8-10oz of hot, almost boiling water

1 – Mix the kratom, lemon and honey into a thin, even, paste in the bottom of your mug. This prevents clumping in the final tea.
2- Add hot water and let it sit until cool enough to drink.
3- As you drink, stir the kratom to avoid the sediment settling at the bottom of the cup.
♦ Add a pinch of dry, ground turmeric and black pepper or cayenne. This potentiates the kratom and is also a great way of ingesting a healthy amount of Curcuma.
♦ During the summer months, only fill the cup halfway with hot water and top it off with ice for a tasty iced tea. Because cool drinks often need more sweetness, you might like to add a little more honey than usual. This is a great no-proof cocktail for when you want to join in the fun without partaking in the booze.
♦ In the fall months, when it's miserable outside and you want some coziness, choose a red kratom (because of its warm malty flavor) and add a pinch of cinnamon.
♦ Going on a hike? Make your kratom tea in a Mason jar, let it cool and take it to-go.